Chestnut Hill, Massachusetts Contemporary Addition
a+sl studios Architects with the Office of Mark Armstrong Architect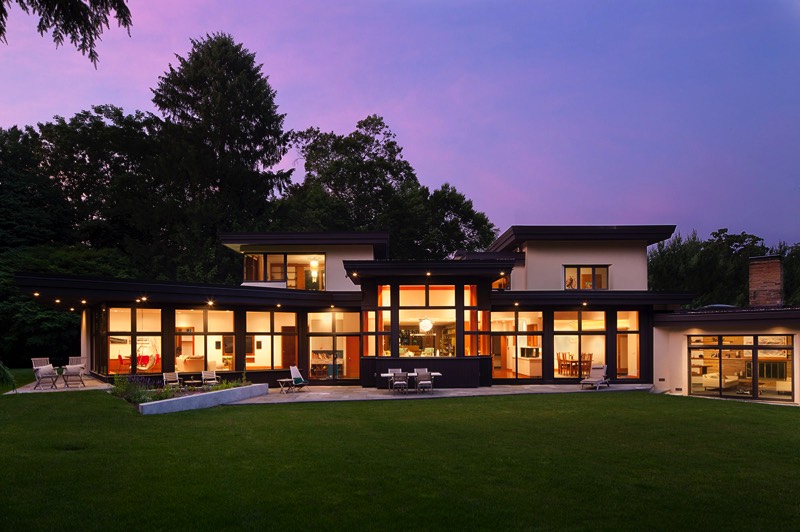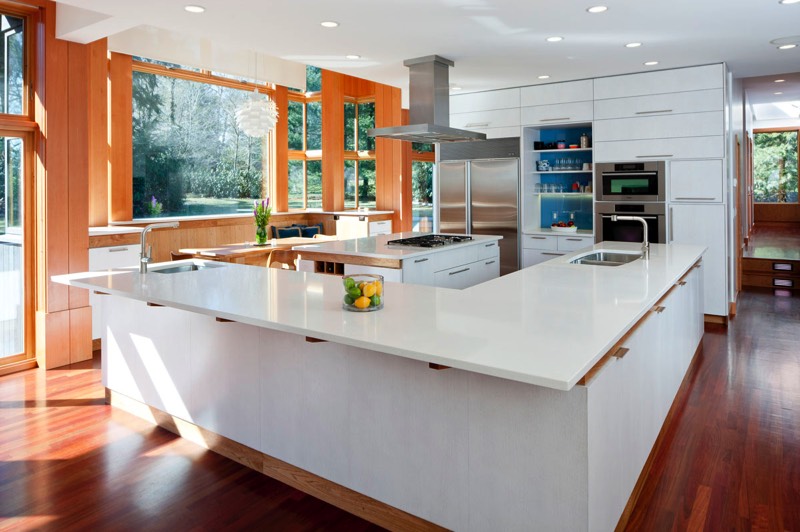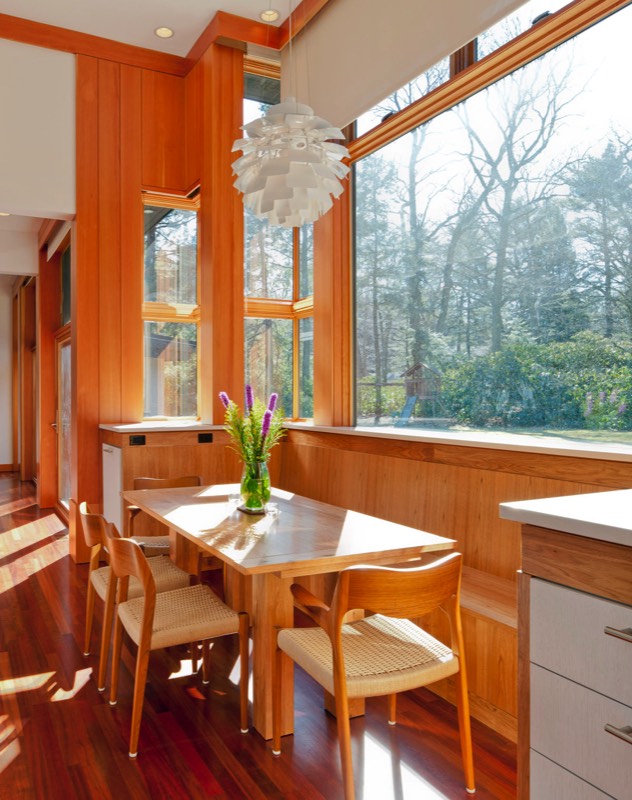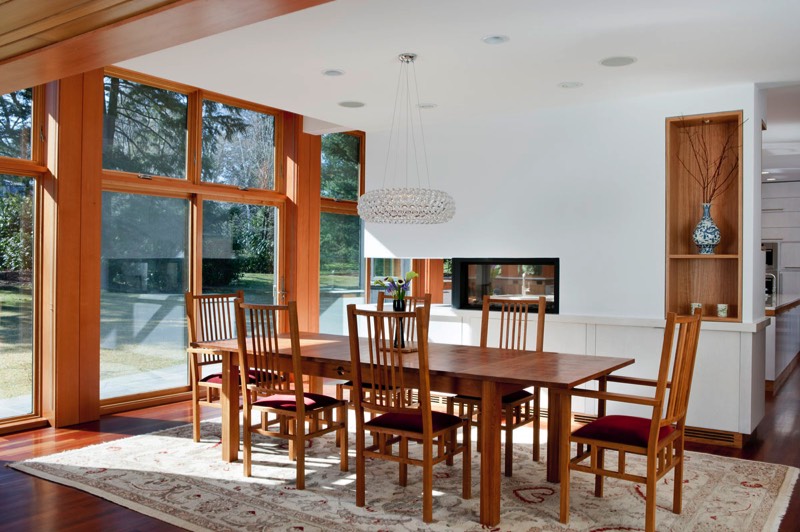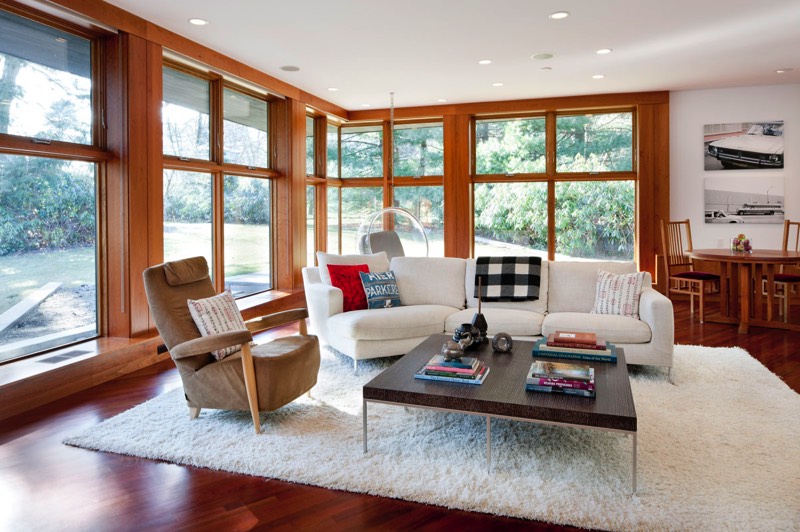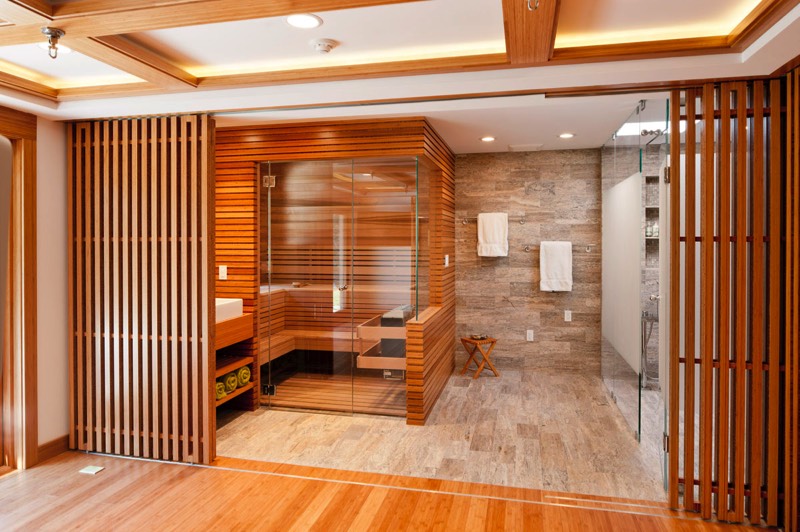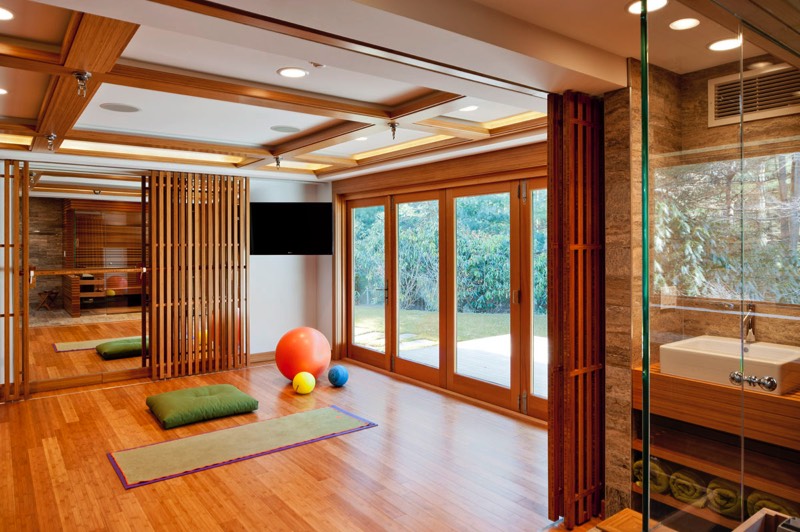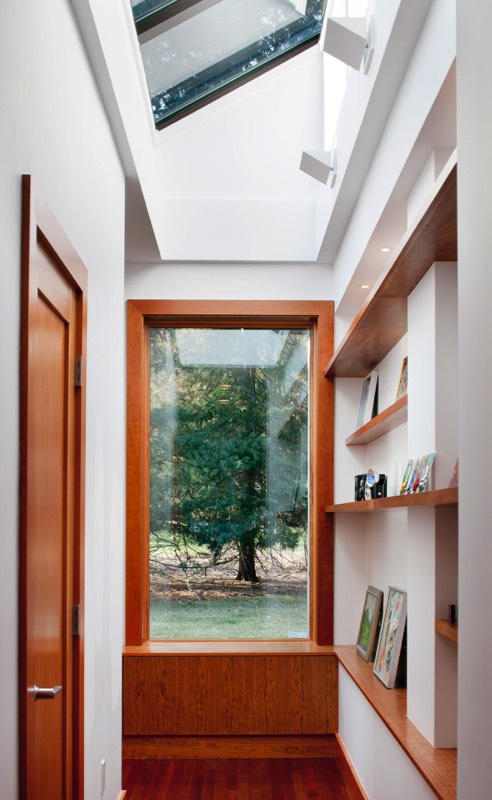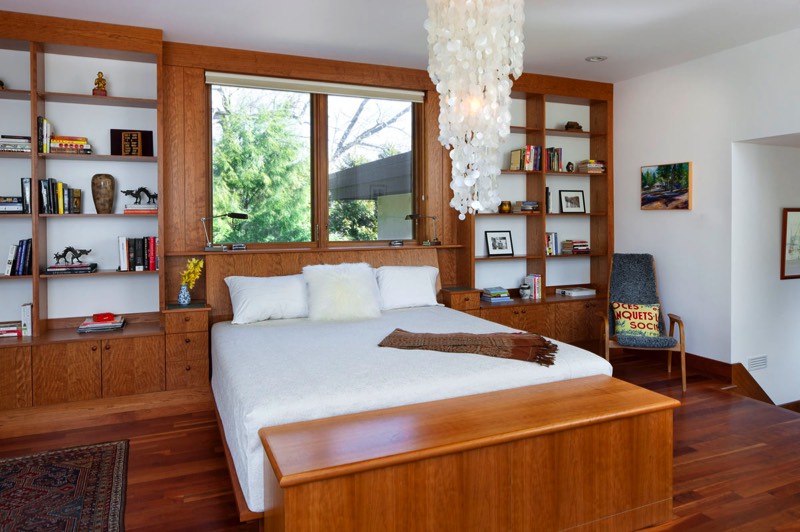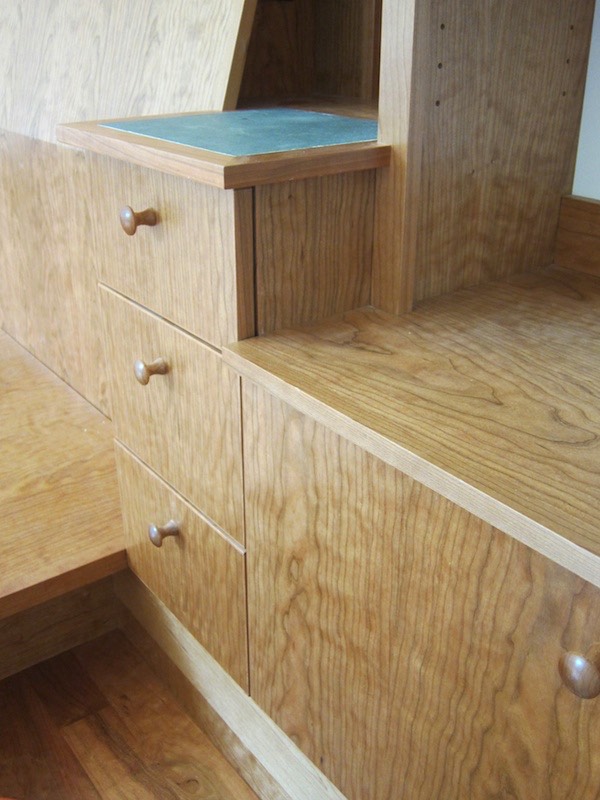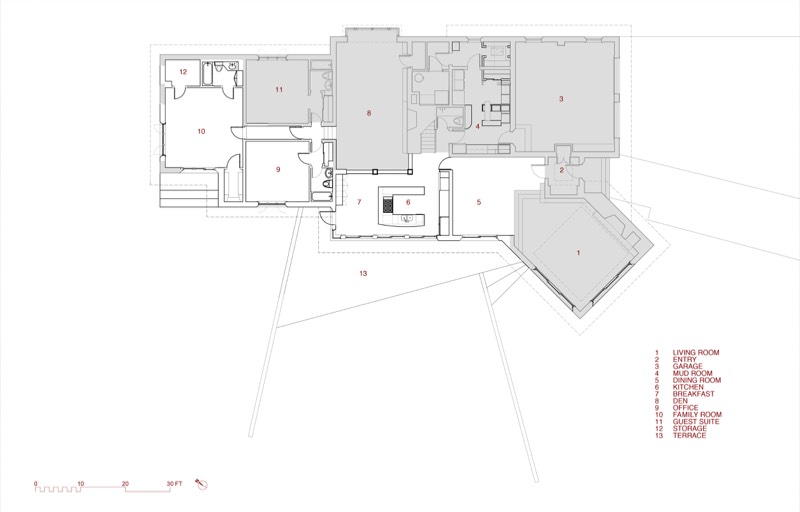 Before - First Floor Plan ^^
After - First Floor Plan ^^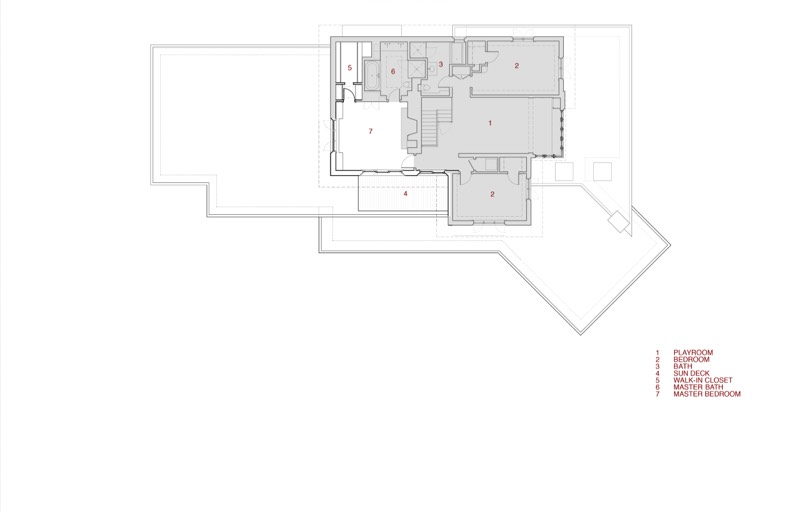 Before - Second Floor Plan ^^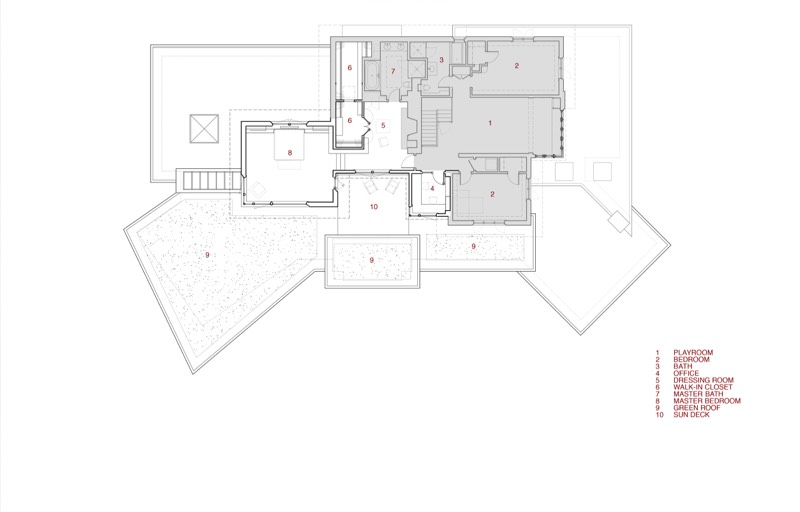 After - Second Floor Plan ^^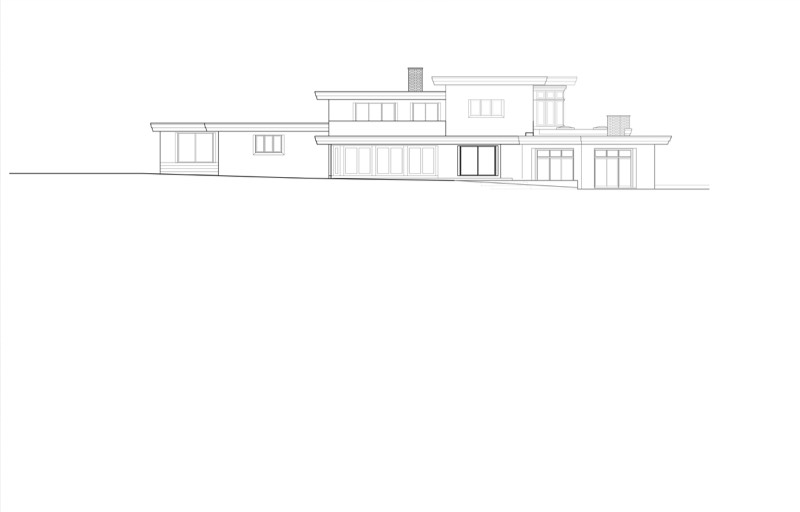 Before - Southwest Elevation ^^
After - Southwest Elevation ^^
Pre-construction Renderings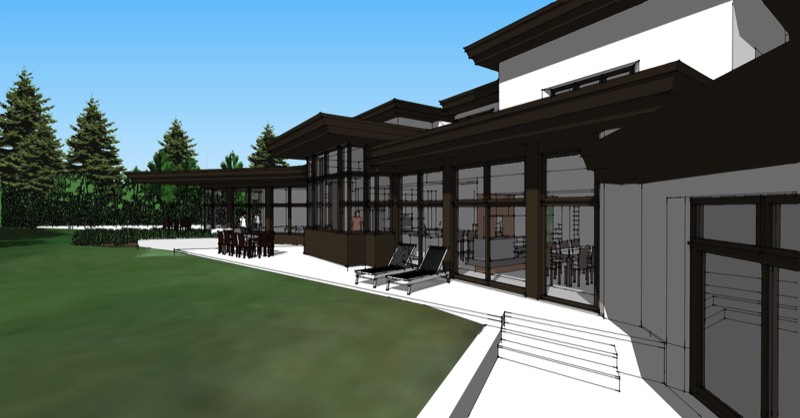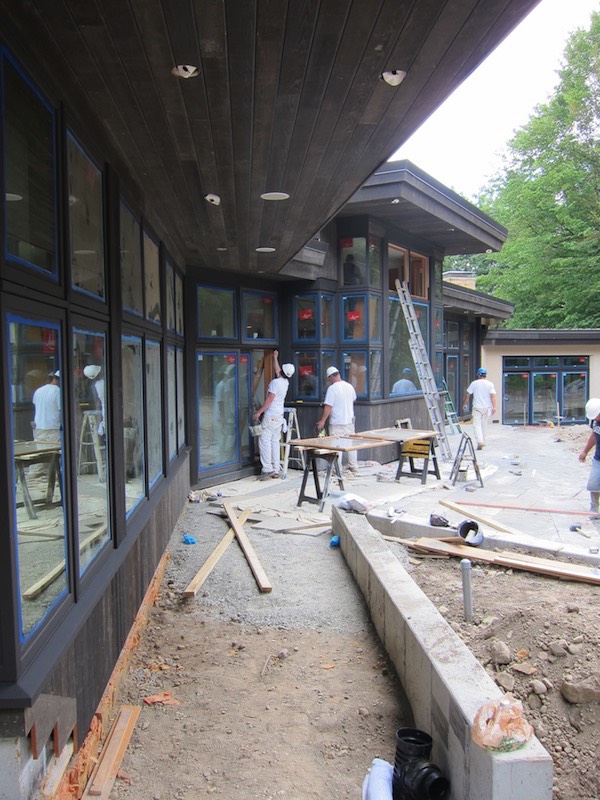 Chestnut Hill, Massachusetts Contemporary Addition
The existing Chestnut Hill residence was built in 1983 as a "Solar House" (link to Brookline newspaper article
here
) with a few large windows on the south side and deep set openings in thick exterior insulation over concrete block. The resulting interior spaces were dark and cold.
Sited on land that was originally part of an estate landscaped by F.L. Olmstead Associates in 1909, the house was purchased in 1996 by the previous owner, who customized the residence, work managed by Mark Armstrong and Anne Snelling-Lee, architects at Boston firm Leers Weinzapfel Associates at the time.
Because of her previous experience with the quirky house, the most recent owners were referred to Snelling-Lee, who, as a+sl studios, continued alterations to the house after leaving LWA. Eventually, the owners' growing family and passion for green design mandated a complete reappraisal of the interior spaces and their connection to the site, as well as technological upgrades to reinforce the house's original mission and to make an up-to-date sustainability statement. Snelling-Lee enlisted support from Armstrong to complete the reconstruction of the residence.
The interior spaces have been opened up and ceilings heightened. A new master bedroom suite and family room additions provide needed spaces for the couple and their young children. A new passage along the south side connecting the living, dining, kitchen, and family rooms has been created with a wall of high performance windows to expose the pastoral site with the interior and to flood the rooms with natural light. NFC Certified veneers and hardwoods applied to cabinetry, floors, walls, and built-ins lend warmth and a sense of natural materials to the new home.
The resulting scheme leverages the original house's overhanging eaves to provide passive energy conservation: using a detailed digital model, the overhang dimensions at various locations were calculated to allow penetration of warming sunlight during the winter, when the sun angle is low, and to provide shade in the summer, when the angle is high. A geothermal well assists heating and air conditioning by pumping heat in and out of the ground as needed. Power saving systems oversee lighting, power, appliances, and networked media. A green roof tempers heating and cooling demands while keeping storm runoff on site.
While respecting the geometry and energy conserving intent of the original structure, a cool contemporary addition takes this family's home off the grid.
Architects
a+sl studios, inc.
Anne Snelling-Lee, AIA, LEED AP, NCARB
with
Office of Mark Armstrong Architect (OMA)
Mark Armstrong AIA, LEED AP, NCARB
Structural Engineer
CBI Consulting, Inc.
Interior Design
Kristen Rivoli, ASID, IIDA
General Contractor
SEA-DAR Construction
Photo Credits
Greg Premru Photography Inc.
Products and Materials
Blanco
Performa kitchen sinks

Dornbrach
Elio single lever kitchen sink faucets

SubZero
Refrigeration

Miele
D424V Vent hood
H4082 Speed Oven
H4882 Wall Oven
KM3475 Gas Cooktop

Loewen
Windows and Sliding Doors

Spark
Linear Gas Fireplace

CeasarStone
Quartz Countertop

GlassKote
Backsplash

Cabinetry
Custom Manufactured White stained Oak Veneer

Floors
Brazilian Cherry to match existing
The Office of Mark Armstrong Architect offers personal attention in the creation of design oriented and sustainable commercial and residential architecture in New England. Our projects vary from historic to modern, both in new structures and renovations. We are sensitive to the context of each project, including the style, the people, the site, and the city as the basis for the development of new spaces and places.

We work very closely with our clients to build effective personal relationships that we maintain throughout the process. We strive to understand each client's unique set of goals for their property so we may successfully realize them; these criteria become the driving force of the design process, resulting in the uniqueness of each project. The final image of a building, like every other aspect of it, is the result of our dedication to create the appropriate response to the interests of the owner and the context in which the structure exists.

The firm is dedicated to "building green," which means striving for energy conservation, environmental sustainability, and incorporation of non-toxic components into design. We can help you build responsibly whether you are just learning about "going green" or have the most advanced knowledge and goals. As a US Green Building Council member, OMA has access to extensive resources for consultants, and is committed to improving both your home's environment, as well as the earth's. We are equipped to pursue LEED Certification on new and significantly renovated projects.

Mark Armstrong is a licensed, AIA and NCARB registered architect and LEED accredited professional. With current licenses in Massachusetts, Connecticut, and NCARB reciprocity nationwide, Mark has more than 21 years of experience in public and private sector building programming, design, bidding and contract negotiation, and construction supervision. His work associated with other firms includes academic buildings for Harvard, MIT, Exeter Academy, UMass Boston, Mass College of Art, and Berklee College, as well as public buildings for the Federal Courts and the MBTA.